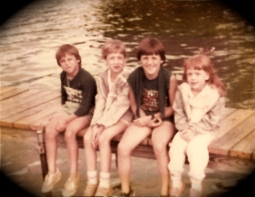 I've only been fishing once.  I remember the small wooden dock with is well-worn splintered surface prickling against my sunburned skin in  summer shorts. My 7-year old self fixated on grandpa searching through an extensive tackle box filled with flashy lures — sparkly ones that looked like Christmas tinsel, fishy ones that looked too real, florescent rubber squirmy worms and more. He was looking for just the RIGHT BAIT — the one the would HOOK the perfect fish. "Not any hook will do," said Grandpa Bob, "these trout like BUGS, so we'll feed them what they like." He hooked a creepy crawling looking thing to my line and with  feet dangling in cool Lake Michigan,  I waited for something to BITE — hopefully the lure and not my toes. 🙂
Thinking back, I find that marketing movies is not much different than fishing. You can't cast out your net too wide or pick any old lure. You need to know your audience, find the right bait to attract that audience and then cast it out there to see if you can grab their attention. We call it the HOOK, and it's one of the most important element of positioning a film.
So, think about  one point that makes your movie unique, and why an audience wants to see this and not something. Then, claim it as your hook! Keep it central in all your messaging and be consistent, so consumers are drawn to you…hook, line and sinker.